I just finished playing Lost Winds, one of the first titles available on WiiWare, and I dare say maybe the best exclusive Wii title to date. This is the first game that has compelled me to write a review since Okami, which is interesting because there are actually a lot of parallels between these two games. These guys did nearly everything right; I was engaged from the very first moments of the interactive opening title screen, all the way through the well paced progression of gameplay mechanics and ample save points, to the somewhat abrupt ending. The game cost me $10 and provided me with about 5 hours of solid gameplay. Frontier definitely put money where it matters. No waste of voice acting or FMV cut scenes; just gorgeous, stylized graphics, amazing puzzle and world design, first class controls, and innovative mechanics.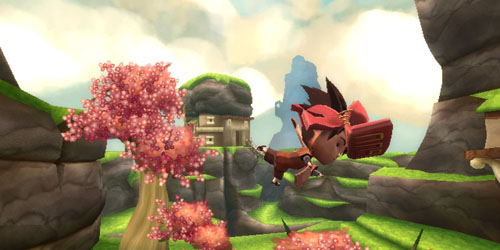 I did feel the game to be a little floaty at first, but this sense dispersed as the game progressed to a point where most of my mobility was accomplished via floating. I also wish that things like moving into position to talk to NPCs, climbing over a ledge, and eating a fruit were a bit quicker, though I concede this might risk some of the hero's cute charm. Baddies were also a sore point for me, their frequency made me tired if I tried to dispose of them all, so I eventually did my best to avoid them. A final negative note: I couldn't figure out how to beat the boss and resorted to looking at a walk through. It could be my fault for not exploring this particular enemy besting mechanic earlier in the game (if it indeed existed), but I'm leaning towards it not being intuitive enough.
The best part of this game was the iterative and innovative control and interaction mechanics. The player uses a Wii cursor to draw wind. As the game progresses they are able to manipulate the wind to a greater degree due to two synergistic occurrences; their dexterity and timing improve, and the variety of motions and effects available to them increases. Much of this is not explicitly called out in instructions but instead left to satisfying trial and error discovery.